Customer satisfaction begins with a firm grasp of customer needs. When Bajji Inc. CEO Noritaka Kobayashi sat down with his design team, he already had a customer need in mind: the need to get rid of stress and anxiety every once in a while.
Kobayashi isn't a therapist, but he could plainly see the need for therapeutic services. And he wasn't the only one. Pre-pandemic, Deloitte found that 43% of millennials reported feeling anxious all or most of the time. Shortly after the pandemic arrived, Qualtrics reported that 75% of all people already felt more socially isolated, 67% experienced more stress, and 57% felt more anxious.
This global problem demanded a globally accessible solution . . . like an app.
The result? Feelyou: the only social media network that connects people through emotions. Here are the four core design principles Kobayashi and his team used to develop it.
Step 1: Begin with design thinking.
Design thinking is a strategy that integrates user need, technological possibility, and business potential. It goes beyond business thinking because it seeks to understand the why of user needs.
During the discovery phase, Kobayashi's team learned that loneliness often contributes to depression and anxiety. This indicated their app should help others feel better by reducing that loneliness—in other words, by connecting them with others.
Further discovery research guided other features, too: they learned that venting or journaling can relieve anxiety, that supporting others can be therapeutic, and that talking with others who have shared experiences can improve mood.
The goal of their app, then, was to connect people through emotions. The solution was a writing-based platform where users could receive encouragement and empathy.
This goal guided every decision thereafter.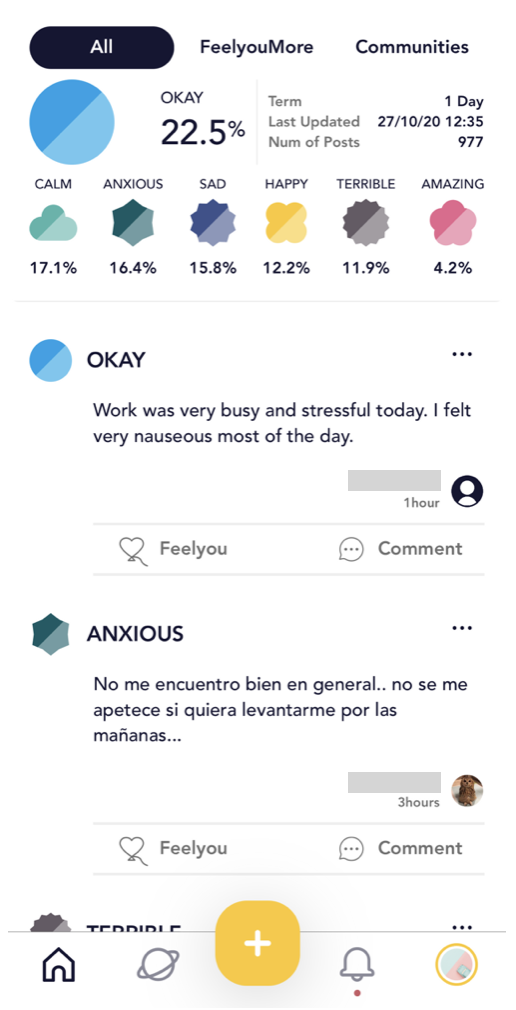 "Instagram is successful because it created international communication via photos. When you open Instagram, you see beautiful photos and understand you should be posting beautiful photos," Kobayashi says. "I'm looking to facilitate international communication via emotions, so when a user opens Feelyou, the icon expressing the emotion comes first. Users understand they can post their honest feelings and be understood."
Kobayashi also says that putting the emotion first in posts helps users feel comfortable being vulnerable. That, and the option to post anonymously.
Feelyou also connects people with in-app communities. These communities allow users to view posts around a single theme, from pets to music, or understand what kind of response a user might want, such as advice or support.
Last, but not least, the option to translate with the click of a button makes posts in all languages accessible to every user.
Understanding customer needs is the first step to deciding (and then designing) proper function. And once you've nailed function, you're well on your way to customer satisfaction.
Step 2: Don't overcomplicate things.
Simplicity theory shows us that easy-to-use design increases growth, sales, and recommendations.
This makes sense. If users can't figure out the form of your app well enough to access the functionality, you basically have no app at all. So once Kobayashi's team finished Feelyou's core features, they focused on making those features as intuitive as possible.
The biggest challenge was deciding the core feelings users would base their posts around.
"Human emotions and feelings are very diverse, and they can be very difficult to identify," says Kobayashi. "Seven emotions can't express every feeling, but that's okay. The core emotions are more like an emotional scale from bad to good."
The seven emotions on the scale are terrible, sad, anxious, okay, calm, happy, and amazing. For the most part that scale has worked well, though some would like a little more complexity.
"We've received a lot of comments and requests for tired, angry, annoyed, exhausted, and disgusted," says Kobayashi. "If we add an angry icon, it would probably be really red. If users open up the timeline and it's just red, red, red, it might feel less welcoming. Right now, instead of that, we added the 'I am angry' community to test what happens."
While it's tempting to argue that the customer is always right, seven options is usually the upper limit for a reason. Eight choices or more usually leaves users with choice paralysis that causes them to abandon the choice entirely.
From there, mirroring the near-standard design of keeping buttons at the bottom of the page was a no-brainer. While the overall form of Feelyou is familiar, it channels human behavior in a new way.
Step 3: Consider user feelings at every step.
Because users are more likely to remember negative experiences than positive ones, it's important to spend time making sure the user experience is as positive as possible. This is especially true for a social media app, which runs the risk of increasing mental distress. Knowing this, Kobayashi and his team designed Feelyou to counteract the problem.
Preventing competition between users was the first step.
"On existing social media, everyone is always worrying about their number of likes, friends, etc. This is why we never show the number of interactions users receive," says Kobayashi.
Additionally, the "Like" feature that has become a staple on just about every social media app was reworked into an expression of empathy called a "Feelyou." Innovating this feature away from a show of agreement prevents competition.
Without a competitive timeline, users are incentivized to be authentic in their posts instead of performative. The focus remains on connecting to one another. Furthermore, they wanted everyone's posts to feel equal on the main timeline. This means you have to click on a post to see if it's been Feelyoued.
The number of comments on a post, however, is visible from the timeline.
"We want to show users' efforts to make the world better so they can feel good about it. Like, 'Oh, I was honest about my feelings one hundred times in the past three months,' or 'I helped thirty people feel understood.'"
User profiles also display "impact," a measurement designed to portray the positive effect their interactions have had on the community. Science shows this is a good strategy. When we reach out to help someone, not only does the recipient feel good, but the helper feels good, too.
This kind of empathetic design is one of the most powerful ways to guarantee a positive experience for users.
Step 4: Show commitment to user values.
People increasingly only support companies that they feel connect with their values, so it's vital that companies make their social impact priorities clear.
Feelyou didn't miss a beat here, either.
As users post, Feelyou, and comment on the posts of others, their impact points grow. For every five impact points, they receive a tree icon in their "village."
This charming feature is more than symbolic. A portion of every premium user's monthly subscription fee is donated to partner organizations—currently, tree-planting organizations. At only three months old, this budding feature on Feelyou shows audience awareness, which will certainly bring dividends and customer loyalty moving forward.
Reap the benefits.
Based on user feedback, the Feelyou design efforts are paying off.
"I think the best part is the safe space [Feelyou] creates," says Chasey Chipiuk, a Canadian user. "Anyone can post, and nine times out of ten they'll get a response . . . People are very open about their problems here."
This is obvious just from looking at the timeline. People vent about their exes, sick family members, COVID-19, and school. But the app isn't just about sharing frustrations. Users also celebrate the happy things in life: friends, weekend plans, pets, partners, and celebrations.
More importantly, every single post is "Feelyoued" by another user who can relate. Some, particularly in the "I need advice or support" community, even receive long, compassionate comments. Usually more than one.
For Kobayashi, that's kind of the point.
"We all feel anxiety, right? And when we can't talk to our parents, partners, etc., we need a reaction from someone who doesn't know us. I want Feelyou to be the place to get that instant, positive social therapy."
The app currently has a rating of 4.6 in both the Google Play and Apple App stores. Kobayashi's projections indicate that if all goes well, they'll have about 20 million users within the next three years. Even if the percentage of premium users is only 1%, that's a massive amount of revenue.
As we move deeper into the era of COVID-19—and even post-COVID-19—there are sure to be more emotion-driven solutions for mental wellbeing. For them to be successful in revenue and impact, creators will need to understand customer needs and use strategic design to meet them.