No matter how long you've been working, you've probably asked yourself what you want from your job and what you need to do to earn a promotion.
Maybe you've expressed an interest in more responsibility, put together proposals, or volunteered for side projects. Or maybe you're looking outside of the office to courses or programs that might raise your skillset.
But what skills are employers really looking for?
Soft Skills vs. Hard Skills
Generally speaking, there are two kinds of skills: soft skills and hard skills. Both are important for your professional growth, but you acquire them in different ways.
Next Article
Team Management
Yoshito Hori led GLOBIS Corporation from a single, rented classroom to a leading business school and venture capital firm with hundreds of employees. Here are five leadership lessons he learned along the way.
Innovation
Are you comfortable with uncertainty in your professional life? How about in your personal life? Next question: How would you rate your emotional intelligence?
What are hard skills?
Hard skills are what most people think of when they describe their expertise or skill set. They include a lot of technical skills—working with certain software, coding, etc. But if you can balance a budget, speak a foreign language, or even type, those are hard skills, as well.
Technovate Thinking
Business leaders of tomorrow need to harness the power of technology and innovation. That means understanding algorithms and how they drive business results. Discover opportunities to make technology work for your competitive edge.
Usually, hard skills come with a degree, certificate, or other proof of training, so they're easy to measure.
What are soft skills?
Soft skills, on the other hand, are more difficult to quantify. Some of the most important soft skills are people skills: communication skills, critical thinking skills, and leadership skills.
Though you might develop soft skills through training or certification programs, soft skills in practice are often more subjective and fluid. For example, while computer programming (a hard skill) is a static hard skill, communication (a soft skill) must be adapted to individuals and situations to get results.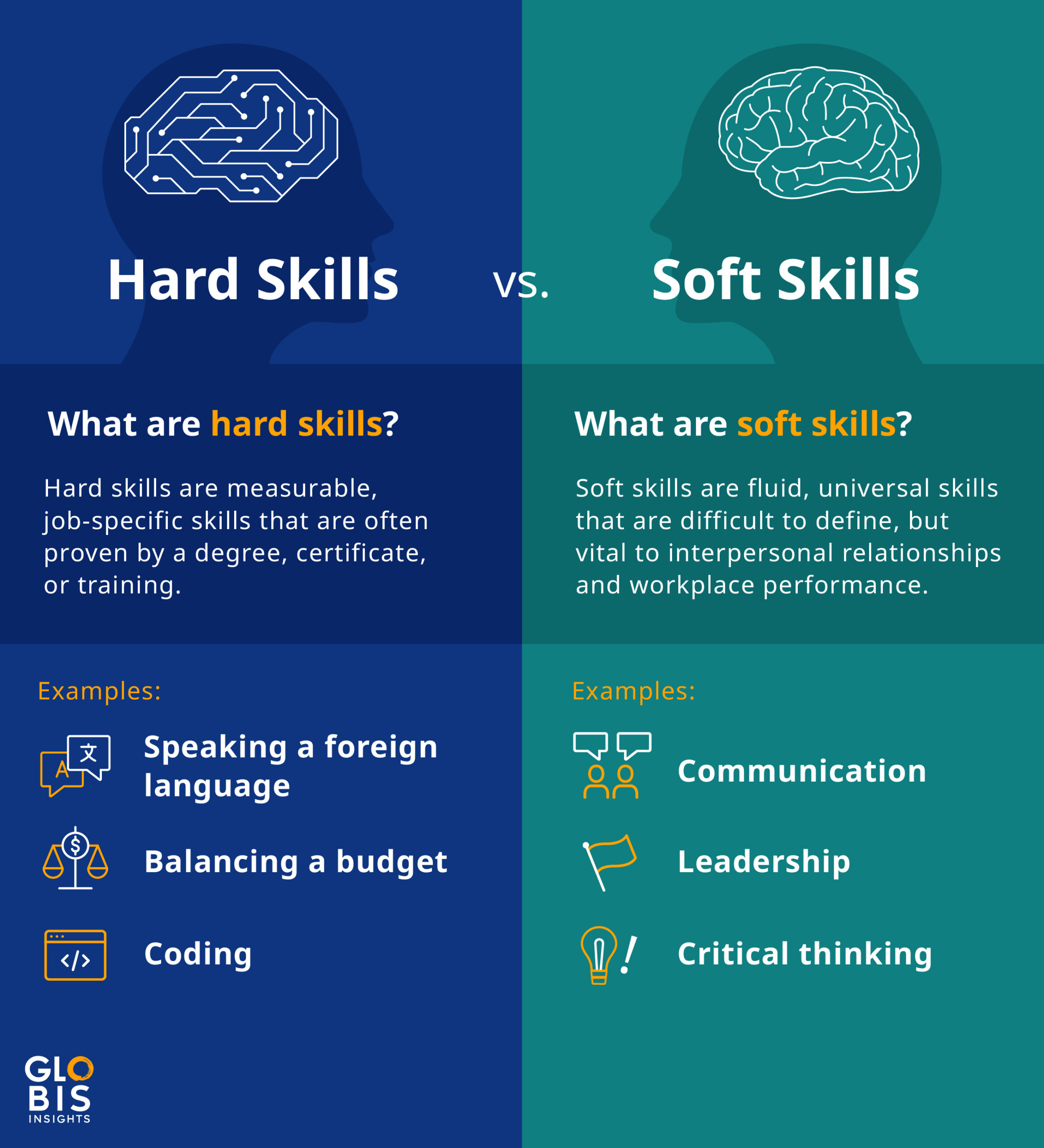 Soft skills in the workplace get valued higher and higher every year. If you want to boost your resume or cover letter, or even just improve the way your project manager sees you, here are some of the most important soft skills to work on.
Critical Thinking
Smart companies want people who know how to think. That's why critical thinking is one of the most essential soft skills.
Critical Thinking: Problem-Solving
Problem-solving is a central business skill, and yet it's the one many people struggle with most. This course will show you how to apply critical thinking techniques to common business examples, avoid misunderstandings, and get at the root of any problem.
Critical thinking employs logical frameworks and iterative analysis for problem-solving. In fact, at GLOBIS University, critical thinking is taught as a method of rethinking.
People with critical thinking skills know how to examine an issue from various sides, form hypotheses, test those hypotheses, and adapt to new information.
How to Assess Your Critical Thinking Skills
If you tend to have knee-jerk reactions to news, argue with coworkers, or get emotional in the office, it's probably time to work on your critical thinking skills.
Critical thinkers know there's always multiple sides to a story. They seek out all relevant information before making a judgment. They're curious and ask lots of questions (without getting argumentative). Their thirst for knowledge—and resulting problem-solving skills—makes them both an asset to the bottom line and a positive influence on the people around them.
What company wouldn't want to promote someone like that?
To improve your critical thinking skills, explore some critical thinking frameworks. Try logic trees for problem-solving or the Minto Pyramid Principle for persuasiveness.
Time Management
Everyone knows that it's important to be on time, respect deadlines, and respond to emails and other communications promptly. But time management doesn't always come naturally. It can be challenging for many people to master.
Luckily, just like anything else, time management skills can improve with effort.
How to Assess Your Time Management Skills
Be honest: When you arrive for meetings, is everyone else usually seated and waiting? Do your teammates joke about your chronic lateness? Does your boss send you deadline reminders? Are you always the last one to sign off because you struggle to get your daily to-do list done?
If the answer to any of these is yes, try researching some productivity tips to improve your time management skills.
Poor time management is the kind of thing that eats away at your reputation over time. On the other hand, strong time management is often noticed and can be a major soft skill in your favor when that promotion comes around.
Next Article
Career Skills
"Eating the frog" is a time management technique that can help you achieve long-term productivity.
Career Skills
What is the Pomodoro Technique? Where did it get its quirky name, and how can it improve long-term productivity?
Work Ethic & Passion
The quiet quitting phenomenon of 2022 emphasized the importance of work engagement. A good company will nurture an environment where everyone feels engaged. And it will also reward those who respond with a positive attitude and commitment to hard work.
What's more, a strong work ethic will help you see and articulate the value you provide. "I deserve a raise because…" (with evidence) is much more convincing than "I deserve a raise."
Pyramid Structure
Having the pyramid structure in your communication toolkit can not only help you approach a problem, but convince others that your solution is valid. Break away from linear thinking and test your logical thinking with this course from GLOBIS Unlimited!
That's why work ethic is a valuable soft skill in the workplace—for you and your employer.
How to Assess Your Work Ethic and Passion
To assess your work ethic, don't start with reflecting on how hard you work. Instead, ask yourself, "Do I like my job?" If your answer is "Yes, but," consider the "but." When are you least engaged, and why?
To develop a stronger work ethic, try creating a personal mission—a kokorozashi, in Japanese. This can be enormously helpful for raising your motivation and sense of direction. A kokorozashi doesn't just help you get through a project or deal with a difficult coworker. It unifies your passions and skills to create positive change in society.
Next Article
Kokorozashi
Your kokorozashi is your personal mission. But it's not all personal. Business leaders harness their kokorozashi to create a better future for everyone.
Kokorozashi
Your kokorozashi (personal mission) can bring clarity and purpose to your career. But how do you bring your personal mission to life and make it more than just a pipe dream?
Active Listening
Have you ever asked your manager to discuss an issue at work, only to have them jump to a conclusion halfway through and say, "Just do this!"?
That's a classic sign of poor active listening skills.
Communication, like leadership and critical thinking, is a huge umbrella of vital soft skills. But when we think about communication, we often focus on output—how to talk to people. Active listening, which focuses on input, is often overlooked.
Leadership with Passion through Kokorozashi
The key ingredient to success? Passion.
Finding your kokorozashi will unify your passions and skills to create positive change in society. This GLOBIS Unlimited course will help you develop the values and lifelong goals you need to become a strong, passion-driven leader.
If you've ever talked to someone who truly did give you their full attention, you know how validating an active listener can make you feel.
How to Assess Your Active Listening Skills
Active listening is more than hearing the words that come out of another person's mouth. It includes an awareness of unspoken communication from both parties: body language, facial expressions, and empathy.
The best active listeners also know how to use clarifying techniques such as open-ended follow-up questions, paraphrasing, and honesty about confusion. If you're not familiar with these, educate yourself about the method. Then practice with every conversation you're a part of.
You should soon notice a difference in how much people enjoy sharing information with you!
The Value of Soft Skills for the Future of Work
Hard skills on your resume that fit a job description will certainly get you an interview, but soft skills in the workplace are quickly becoming must-haves, too. It's often the soft skills that reveal a good or bad culture fit, after all.
To ensure you have the soft skills that employers are looking for, reflect on your day-to-day performance. Try to be objective.
How are your interpersonal skills, both with coworkers and customers?
Are you able to solve problems using logic, or do you rely more on emotion and intuition?
Do you show respect for your coworkers by being on time, employing active listening, and authentically supporting them?
These and similar questions will lead you to any gaps in your soft skill repertoire.
As you grow, you'll discover that the best thing about soft skills is that they're universal. If you choose to change your specialty or industry someday, you'll need to master a new set of hard skills. But there will always be a place for critical thinking, work ethic, and other soft skills in the workplace.